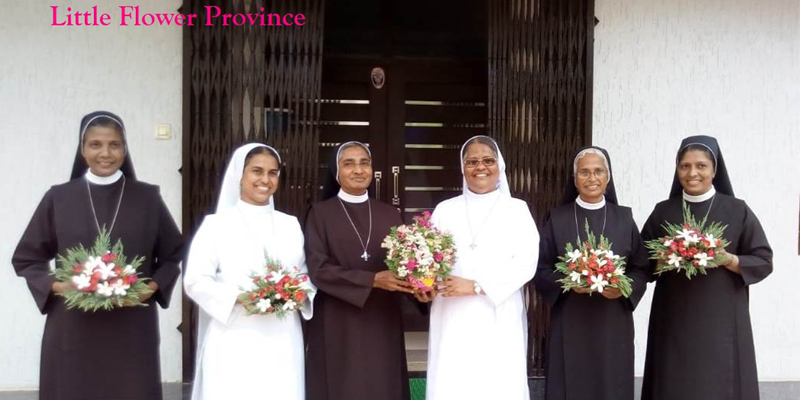 St. Little Flower Province was established on 4 May, 2018. It was bifurcated from Lisieux Province, Jhansi. The first Provincial Chapter of St. Little Flower Province which was held in May, 2018, was presided over by Rev Mother Soosamma, the Superior General. Rev. Sr. Jaya was elected as the first Provincial Superior of the Province. Sr. Cecil, Sr. Tessie, Sr. Mercy Raphael and Sr. Anishya were elected as the Councillors. Sr. Litsy and Sr. Ancy were appointed as Secretary & Bursar respectively. St. George Carmel Convent, Neemuch is established as the Provincialate. St. Little Flower Province began with 11 Communities extended in3 States of Madhya Pradesh, Chhattisgarh and Maharashtra. The Treasure chest of the Province is 62 Sisters. After strenuous efforts and positive results of one year, the Province extended its mission to north-east. A convent was opened at Koilamati, Assam in the diocese of Diphu on 9 June 2019, where we are collaborating with the OCD Fathers of South Kerala Province. Thus we have 12 communities at present. We are getting ahead to treat the people in three archdioceses – ie Bhopal, Mumbai & Raipur and 4 dioceses – Diphu, Jhabua,and Gwalior and Raigarh.
With humility and acceptance our sisters enable the disabled in the field of Education, Medical care, old age home, Social work, Prison ministry, Parish activities, Sacristy, School and Parish Offices, S.C.C, Youth wing, Diocesian social work centres, Communion to the sick, conducting choir, teaching Catechism etc. We work with right sense of priority and feeling of humanity.
The Province has 3 English medium CBSE schools at Neemuch, Bagbahra & Raigarh. 2 Hindi medium schools at Parsahi & Raigarh. 1 State Board English Medium Primary school, at Parsahi. 1 Old age home at Ambernath, Mumbai. 2 Hostels for students at Raigarh and Parsahi in Chattisgarh.