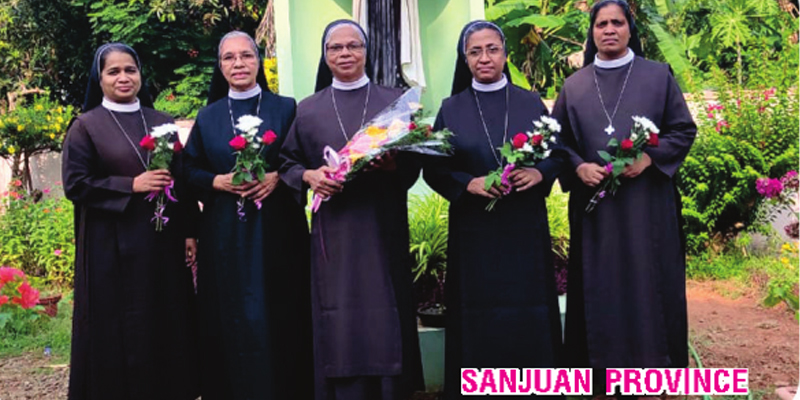 It is God's plan that CTC should flourish to the more remote areas and spread His kingdom by forming a new Province. As per the recommendation of the General Plenary Council 2016, General Council Meeting on 15.1.2017 has decided to declare the bifurcation of St. Joseph's Province into St. Joseph's and San Juan Provinces on 8.12.2017 on the feast of Immaculate Conception. The temporary Provincial house of San Province is declared as Holy Ghost Convent through the letter of Dec 8 th 2017 by the Superior General Rev. Mother Liza.
The first Provincial Chapter of the San Juan Province was held at St. Joseph's Provincial House, Kakkanad from 3 May to 8 May 2018, presided over by Very Rev. Dr. Sr. Soosamma, the Superior General & Rev. Sr. Stein was elected as the first Provincial Superior. Sr. Rose Mitty, Sr. Mary Helen, Sr. Reethamma Ambrose and Sr. Treasa Margret were elected as Councilors. At present Teresian Carmelite Convent, yoodhapuram, Angamaly is raised to the status of San Juan Provincilate.
The treasure of the Province is 98 perpetually professed sisters and 9 sisters with temporary vows who are engaged in various apostolate in 13 Communities spread out in the districts of Eranakulam, Thrissur, Palakkad, Wayanad, Kannur and Kozhikode in Kerala and it is spread in the dioceses of Verapoly, Kottapuram, Kannur, Calicut and Palakkad.The apostolate of this province is Education, Social work and the sisters are rendering Ecclesial services in various fields like, Kottapuram diocesan Pastoral Centre Vikas, KRLCC, Pontifical Seminary at Mangalapuzha and Carmelgiri in Aluva,
San Juan Province has 13 Convents (12 convent and a residence), One Teachers Training College (B. Ed), 3 Higher Secondary Schools (2 Aided +1 Unaided) 4 High Schools ( 2 Aided + 2 Unaided) 4 UP Schools (2 Aided + 2 Unaided) 5 LP Schools (2 Aided + 3Unaided), 6 Nursery Schools and one Winery. Thus the newly constituted Province continues its journey to holiness under the patronage of St. John of the Cross.